EXPLORE OUR SERVICES
Reap the benefits of hot and cold therapy at our contemporary wellness spaces. Visit any of our four locations in Bondi, Byron Bay, Manly or Melbourne. Experience private state-of-the-art infrared saunas, cold immersion therapy and ice baths, recovery tech, retail, health practitioners and more.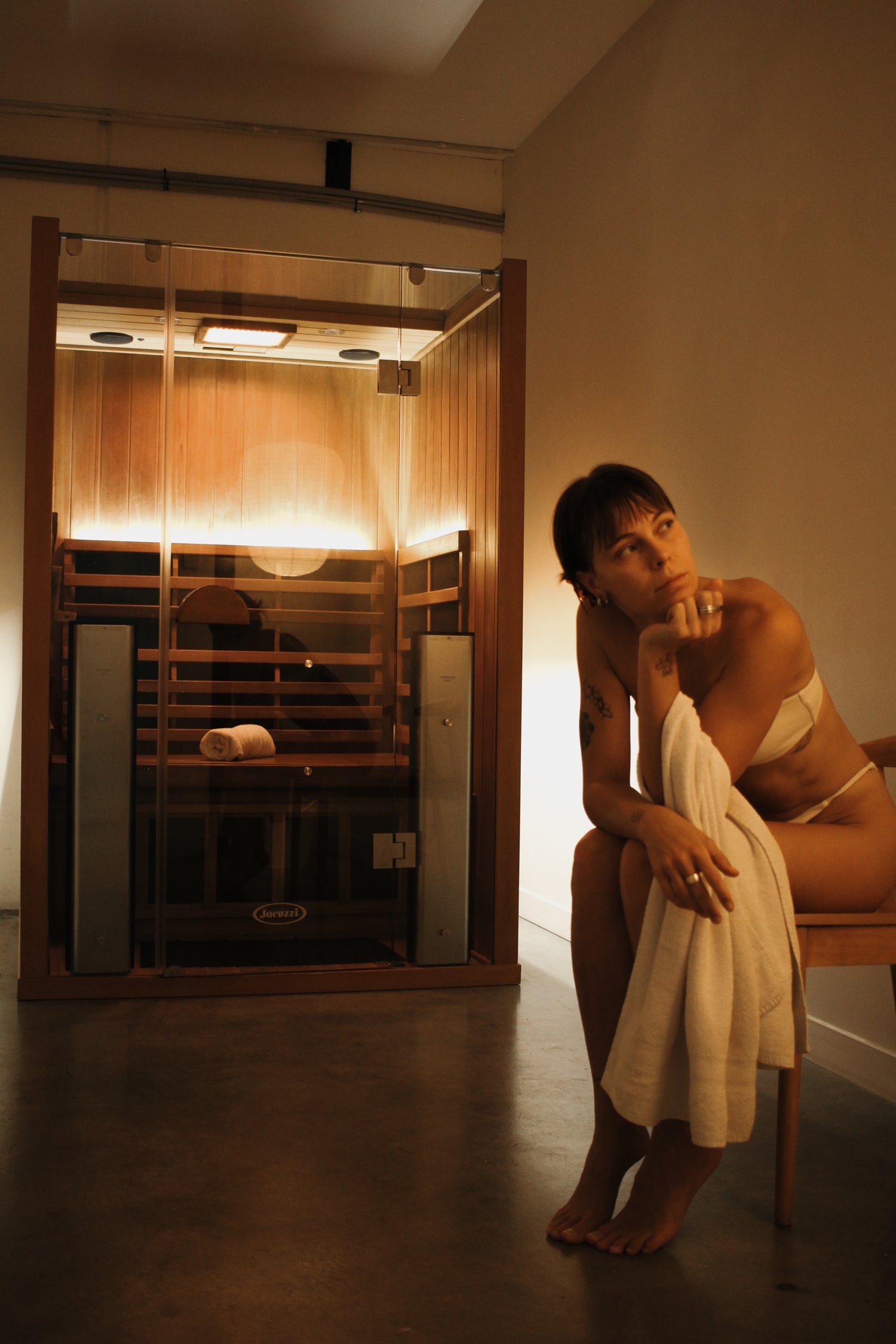 Infrared Saunas
Session Length | 45 Minutes
Temperature | 45 °C - 68 °C

Experience total restoration and relaxation in our private full spectrum infrared sauna rooms. Select from our:
Standard sauna rooms (1-2 people)
Large sauna rooms (1-3 people) or
Outdoor large sauna (3-4 people)
Bring a friend for an additional $15.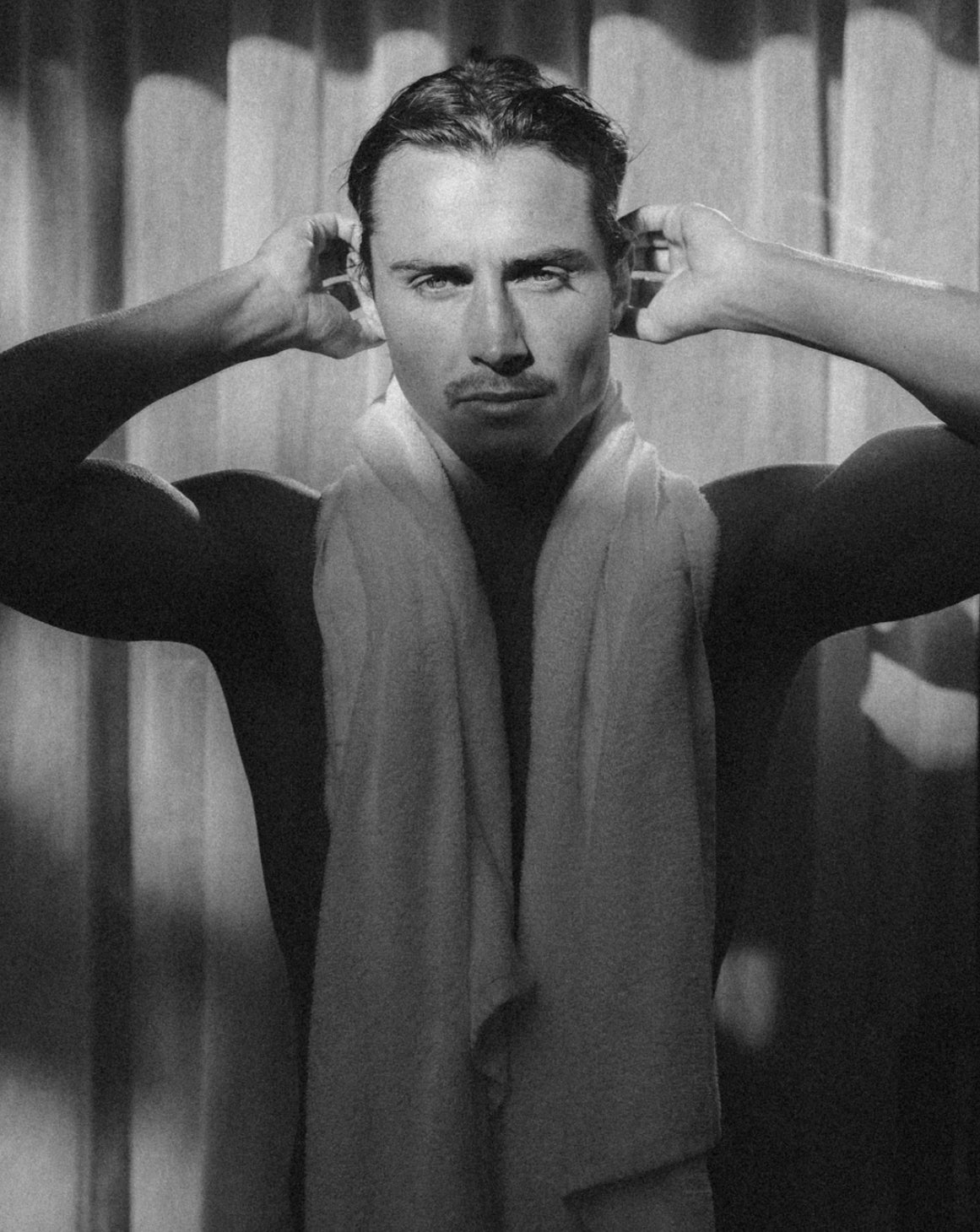 Ice Baths
Session Length | 15 Minutes
Temperature | 5°C - 9°C.

Sharpen your mental focus, boost your metabolism, aid and speed up recovery, or obtain a natural high with our cold plunge therapy.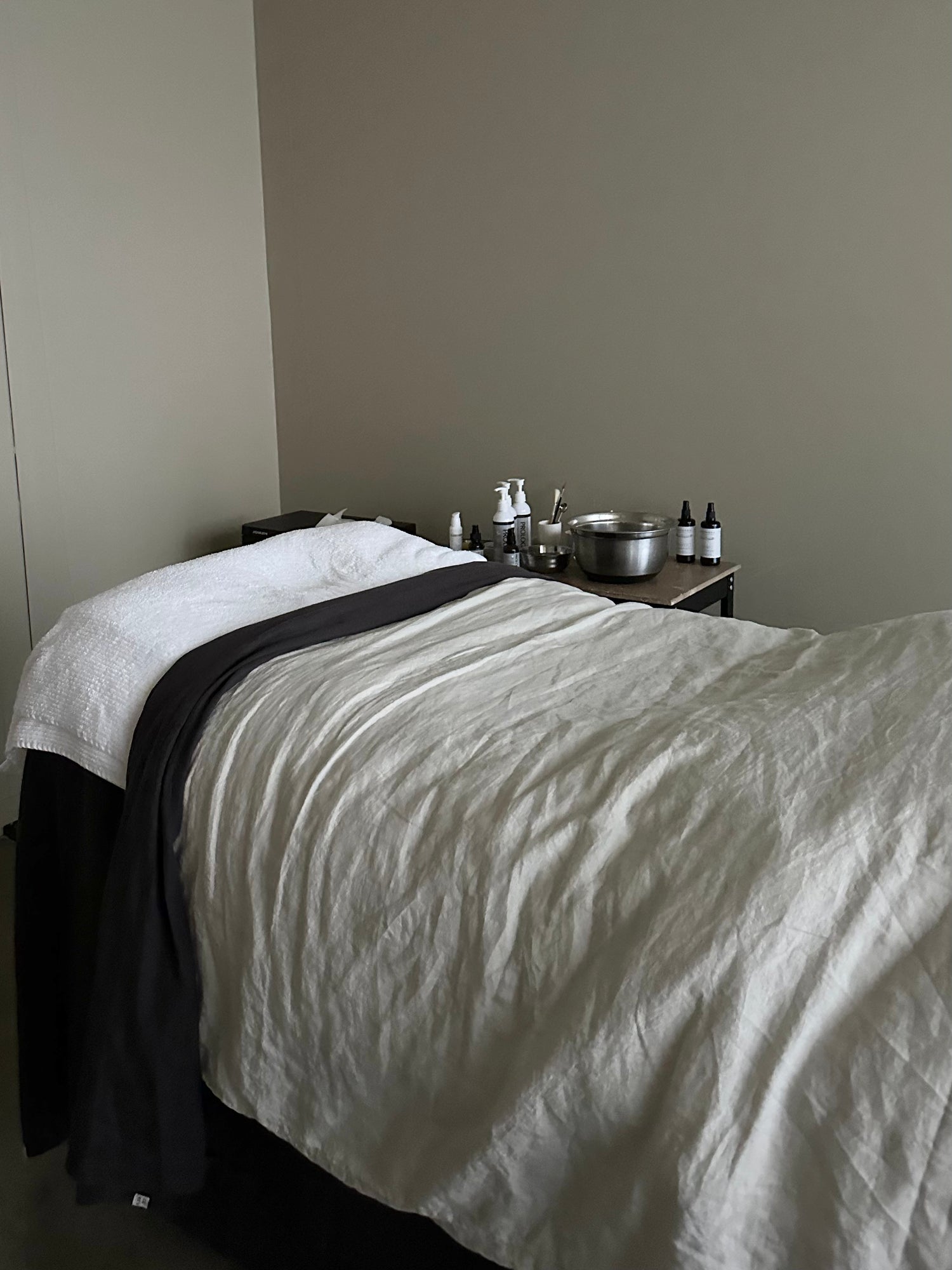 Practitioners
Each of our studios come equipped with multi-modality wellness practitioners and qualified health experts ranging from:
Massage to
Naturopathy
Acupuncture
Meditation
Myotherapy
Compression boots and more.
COME TO...
Unwind

Disconnect

Detox

Relax
Collapsible content
Towels

One complimentary towel is provided during your session, you can request additional ones from our front-of-house staff. You can also bring your own.
Shower Facilities

All studios have showers on site. In our Byron Bay and Melbourne studios, a shower area is available for your post-sauna or ice bath rinse. Bondi & Manly studios offer in-room shower facilities. All of our infrared sauna studios provide complimentary Leif botanicals products for washing.
Filtered Water & Tea

Complimentary filtered water and herbal tea are provided pre and post session to support rehydration and a calming post sauna experience.
Bespoke Soundscapes

Produced in collaboration with artist and composer Matthew Lesser, explore and listen to our 45-minute tracks available during your sauna. Created with the intent to enhance and deepen your state of mind and experience further. These sounds are inspired by the nature around us, frequencies we give and receive as humans and acknowledge the indigenous lands on which we meet.
iPads and Bluetooth

We provide iPads and bluetooth connection in our private rooms. You can choose how to unwind, listen to a meditation, or tune out to the latest Netflix show. You can also connect your own phone to the speakers and play your own playlist.
Sauna & Ice Bath Guides

Printed sauna and ice bath guides are located in all our private rooms. If it's your first time with us we suggest you read through and let the team know if you have any questions.
Collapsible content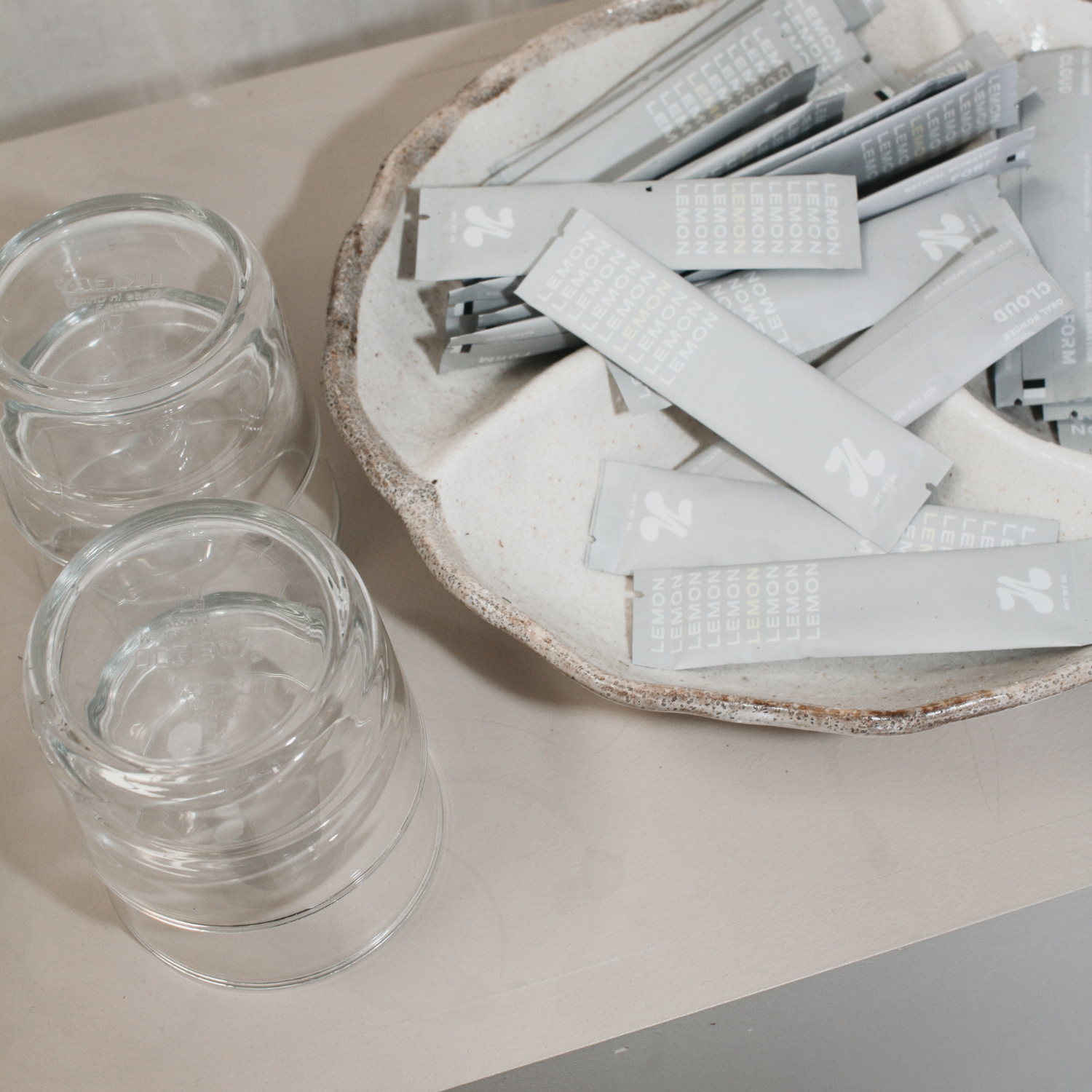 Lypo-Spheric Vitamin C

Boost your body with a Lypo-Spheric Vitamin C shot and maximise the bioavailability and delivery of vitamin C to the bloodstream post session.
Chlorophyll Tonic

Enhance your detox with a Chlorophyll Tonic.
Cloud Form Powder

Formulated with coconut water powder, marine algae and seabuckthorn to replenish lost electrolytes.
Imbibe Beauty Renweal

A liquid, 3-in-1 probiotic concentrate for a healthy gut and glowing skin.Multi-strain probiotics feed and nourish the microbiome, while fermented coconut hydrates the cells and antioxidants feed the skin.

What to expect?
Step 1.

You are greeted in reception by our experienced staff before being led to your secluded room for your private infrared sauna or ice bath session. Let the smells of hand rolled incense & softly diffused oils bring a sense of calm. Enjoy the complimentary filtered water - a carafe is provided for you during your session.

Step 2.

If it is your first session with Nimbus, we give you an in-depth introduction to the studio & how to use the infrared sauna or ice baths; please share any health concerns or focuses with us, as we can tailor your session accordingly. First timer tips: stay hydrated, limit personal care products. We also welcome you to bring a +1 to your session (at an additional charge).

Step 3.

We encourage you to find your alignment; meditate, delve into our selected reading material, flow through gentle stretches or listen to a podcast or your favourite music by connecting to the in-built speakers in your infrared sauna on your device or by using the iPad provided. Reap the additional therapeutic benefits of the coloured LED lighting, located in the ceiling of your infrared sauna.

Step 4.

In our Nimbus Co Byron Bay and Melbourne studios, we invite you to simply move across to the showers for your post-sauna or ice bath rinse, providing you with Leif botanicals skincare. Our Bondi & Manly studios offer in-room shower facilities.
FROM THE NIMBUS COMMUNITY
"Loved my experience, my first time doing an ice bath, Sam talked me through the best way to breathe through it and I made 3mins! Feeling so invigorated. Thank you!"
— Jode
Byron Bay
"I stopped by for a sauna and ice bath after arriving back from LA, it's always the perfect jet-lag cure and I absolutely love the newly re-imagined space, so beautiful and serene. Thanks for another excellent experience!"
— Matt.
Bondi
"My favourite place for all the good feels. Thank you for providing such a beautiful, clean, space. Love Nimbus!"
— Emma.
Bondi
"Such an amazing experience! Feel invigorated for the day. Beautiful space run by beautiful people."
— Sally.
Manly
"I highly recommend this beautiful space with the amazing owners. They are incredibly kind, provide a professional service and are very informative. This place is state of the art with exceptional quality facilities with the sauna and ice bath. I highly recommend this space for an extraordinary experience! Thanks team!"
— Peter.
Manly
"My favourite place for all the good feels. Thank you for providing such a beautiful, clean, space. Love Nimbus!"
— Emma.
Bondi
"I absolutely love my regular trips to Nimbus!! The studio is beautifully designed & laid out, the staff are warm & lovely and the saunas.... I feel like a new person when I leave, refreshed, revitalised, reborn. I had the heat up higher yesterday than usual & wow - I could feel my inner furnace working for hours after leaving the studio!"
— Max.
Melbourne
"Lovely lovely lovely experience! Beautiful studio and great customer service too. Vincent was so welcoming, knowledgeable, and made our experience awesome."
— Mel.
Melbourne