Regular price
$6,990.00 AUD
Regular price
Sale price
$6,990.00 AUD
Unit price
per
Sale
Sold out
Our ice bath is functional, efficient and beautifully designed. This is a new generation of ice bath that comes with a 316 stainless steel tub wrapped in Japanese Cedar timber. It has an inbuilt refrigeration unit that chills water to as low as 3°C.
It can also be controlled remotely using its own built-in app and can fit up to two people at one time.
Specifications

The Cold Plunge can be located outdoors or indoors in a wet area.
It requires a hard, level surface capable of supporting up to 500k.
The area must be very well-ventilated, with at least 50cm clearance behind the chiller fan for ventilation.
Warranty

We provide ongoing service and support for you and your sauna regardless of your location in Australia. We don't leave you hanging should something go wrong and we take our service and support seriously. 

Lifetime heater warranty

Lifetime electrical warranty

Lifetime cabinet warranty
Remote App

The ice bath can be controlled from anywhere, anytime with the Found-Space App. Your tub can be turned on and chilled to target temperature for when you'll need it.
View full details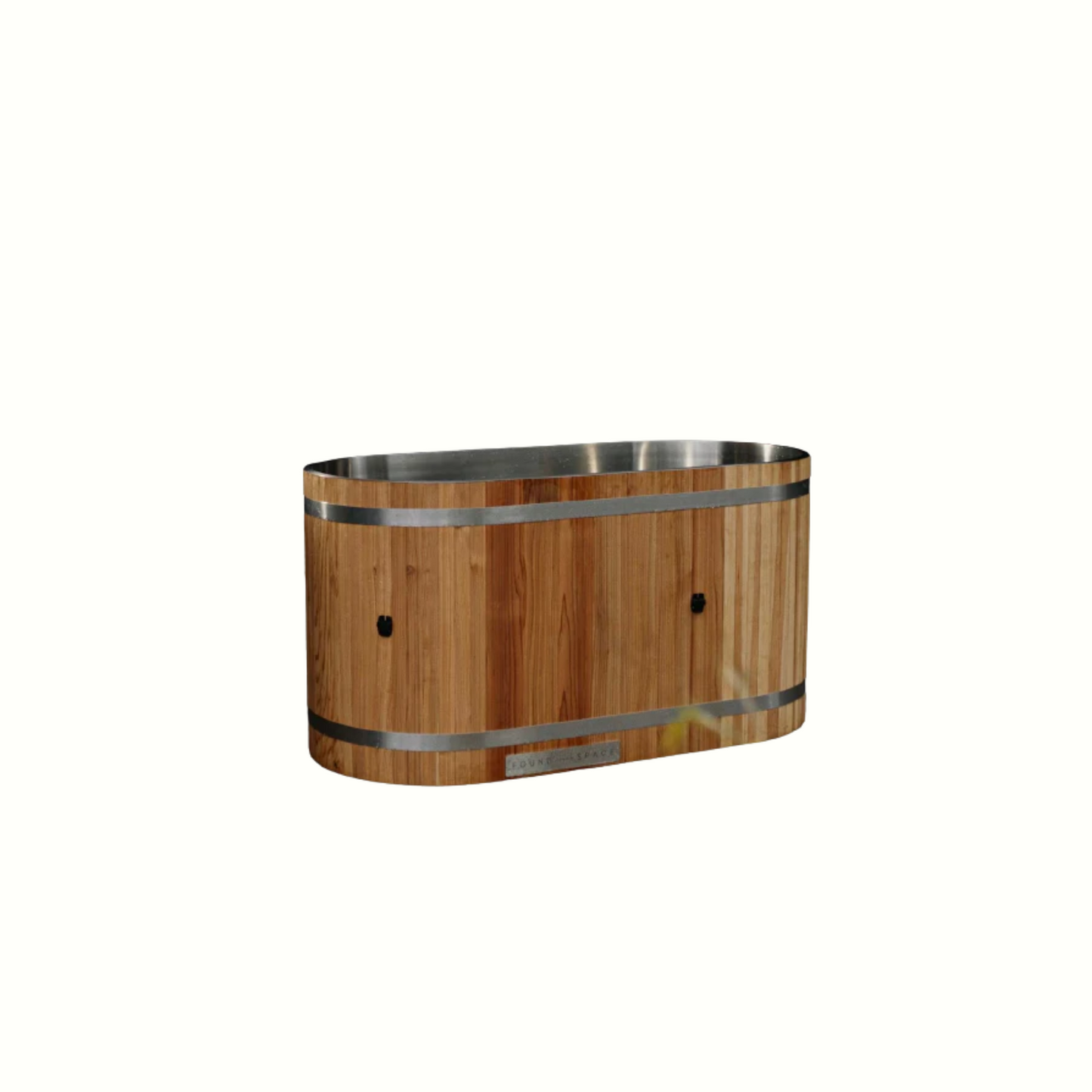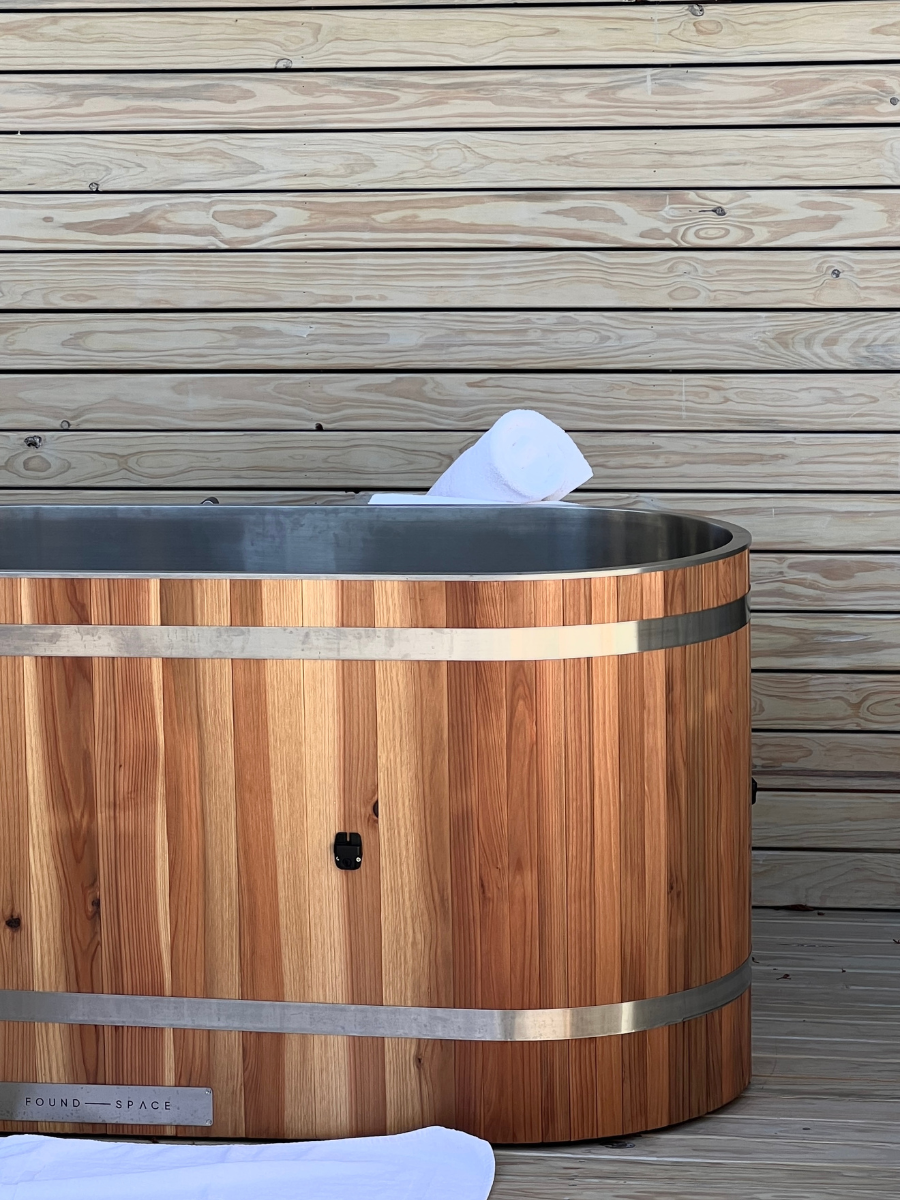 STATE-OF-THE-ART COLD IMMERSION TECHNOLOGY
Our ice baths are designed to be functional, easy to use, efficient and make you feel safe. Each studio has its own cold plunges to suit the style and space. We set the temperature that chills water to 5°C.
Each ice bath can be remotely controlled with its own app.
Temperatures can be set as low as 3°C
Ozone and UV light sterilisation
Filtering system
Temperature gauge
Built-in audio experience
iPad equipped
Pump and filter system
Plug directly into a 10AMP point
Button label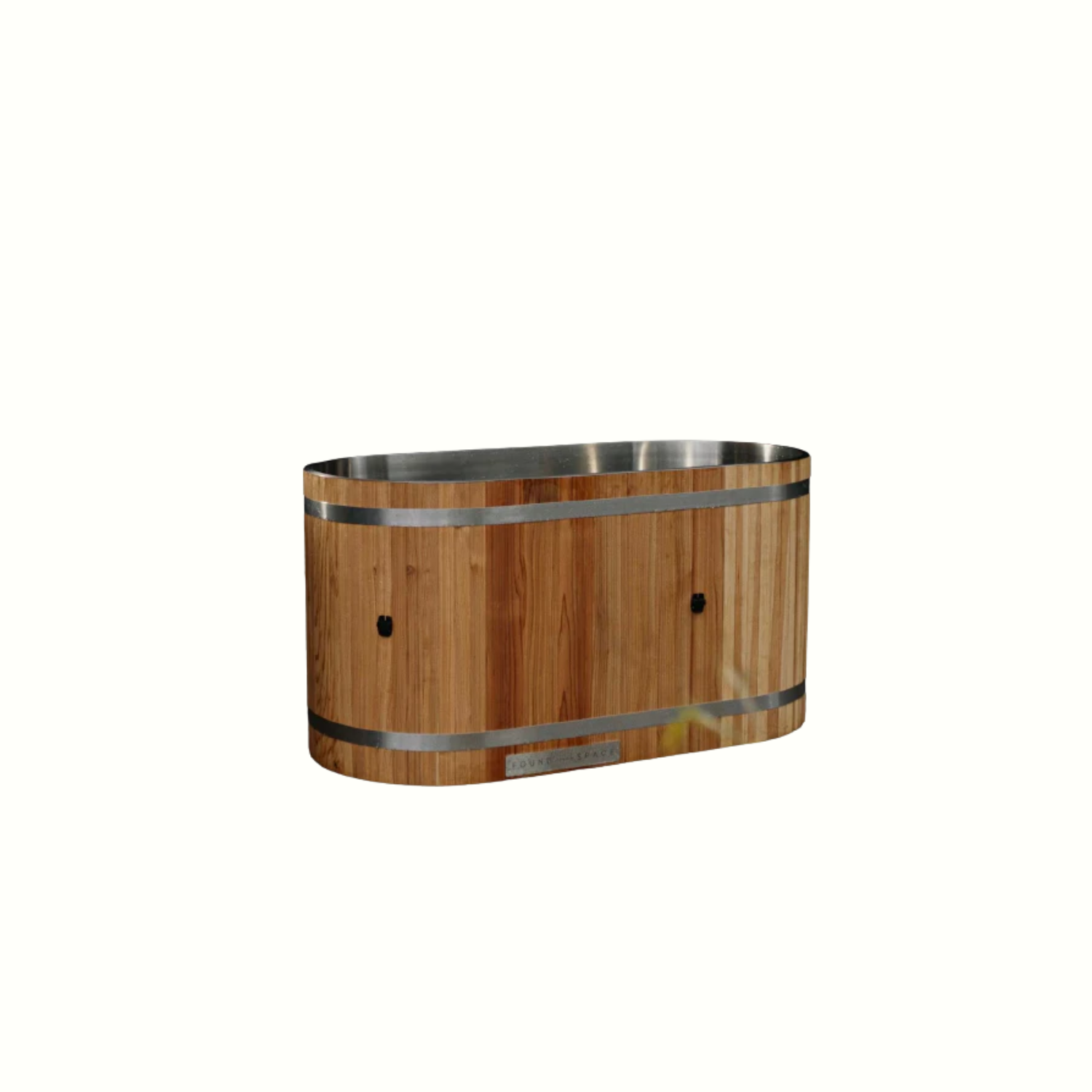 FEEL THE DIFFERENCE
Cold immersion therapy or 'ice baths' are not new. It's like most things when it comes to traditional methods, we can sometimes take our time before they become widely adopted by the community. Ice baths can be traced back as far as the Ancient Greeks. Fast forward to today and the rise of awareness and education of hot and cold or 'contrast therapy' is here to stay. You only have to look at the recent studies from Dr Susanna Soeberg on the impacts ice baths have on metabolic rate. Also known as the 'The Soeberg Principle', when you use cold exposure to increase your metabolism, it's good to minimise hot showers or sauna after as it's more beneficial to end your session with cold therapy so that your body has to warm itself up again. The research showed that 11 minutes of cold exposure coupled with approximately two saunas per week (44-60 mins) provides even further health benefits.
Button label
READY TO EXPERIENCE THE BENEFITS OF ICE BATHS?
MUSCLE RECOVERY

Infrared saunas support cardiovascular health in a similar way to exercise. Our heart rate has been shown to increase up to 100 beats per minute during a moderate-temperature sauna sessions and up to 150 beats per minute during hotter sessions. This is similar to the increases observed during moderate and intensive physical exercise.

REDUCE INFLAMMATION

Sweating is the body's natural process to remove toxins and nasty chemicals from the body. Infrared rays gently heat the body, increasing the core temperate and creating a deep reaction from within your body's cells to assist the detoxification process.

IMPROVE MENTAL HEALTH

One study by the British Medical Association found that people who take regular saunas reduce their incidence of colds and influenza by 65%. Another six-month study found that people who engaged in regular sauna baths had significantly fewer colds than the control group over the same time period.
Boost Your Sauna Experience ꩜
Regular price

Sale price

$25.00 AUD

Unit price

per

Regular price

$0.00 AUD

Sale price

$69.00 AUD

Unit price

per
Choosing a selection results in a full page refresh.
Opens in a new window.